2021 Winner: Shanghai Sengoic on fast-growing track of IC for machine vision and optical measurement

02-03 18:26
Editing by Li Panpan
Sengoic (芯歌智能) won "The Best Technology Breakthrough of the Year 2021" Award from the China Semiconductor Investment Alliance (CSIA) and JW Insights last December for its machine vision and optical measurement ICs.
Liu Jian, the founder and chairman of Sengoic, is an R&D veteran with experience in both Chinese startup Apexone and leading U.S. semiconductor companies Broadcom and Global General Instrument.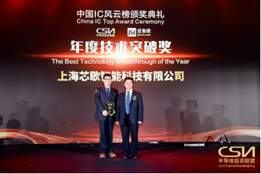 Founded in 2017, Sengoic is reportedly the only Chinese company with core technical strength in machine vision and optical measurement. Its products have been widely used in semiconductors, 3C, automobiles, lithium batteries, welding.
Despite being new in the industry, the company developed rapidly. Its products sold in batches in 2020; Its orders have exceeded RMB50 million ($7.9 million) in 2021. Liu Jian said demands will be RMB100-200 million ($15.79-31.59 million) in 2022.
Liu Jian attributed the boom of his company to excellent market growth potential and its vital technology capabilities. AI and machine vision are the fastest-growing fields worldwide. Meanwhile, the pandemic and geopolitical changes in recent years have caused a short supply of chips related to the security of the industrial chain. Liu Jian felt that his company is on a sustainable track of development.
Sengoic will upgrade its products in 2022 for machine vision and launch fiber measurement ones that meet nanoscale needs. It can develop high-definition and high-speed sensor chips at the cost of one-third of its competitors
Liu Jian said. "The market will choose products with strong technical capability, and the company will grow fast if there is strong market demand." He disclosed that Sengoic is also in the middle of developing dedicated and more affordable AI chips.
Liu admitted challenges in the marketplace. Given the uncertainties in the supply chain, Sengoic made large quantities of advanced stockings last year. He gave the example of buying FPGAs at RMB300 ($47.39) per piece, and it is at RMB4000 ($631.93) per piece now.
The company has varied stocking plans because the overall production capacity in 2022 is still not optimistic. Although production capacity might be eased, a considerable part will remain in short supply, he added.