Gartner releases the 2021 top 10 semiconductor buyers worldwide, with Huawei slipping to No.7 and Lenovo replacing it as No.3

02-08 15:38
Editing by Kate Yuan
Chinese company Lenovo and BBK became the No.3 and No.4 top semiconductor buyers after Huawei fell to No.7 in the 2021 ranking list released February 2 by Gartner. Huawei was No.3 on the 2020 list.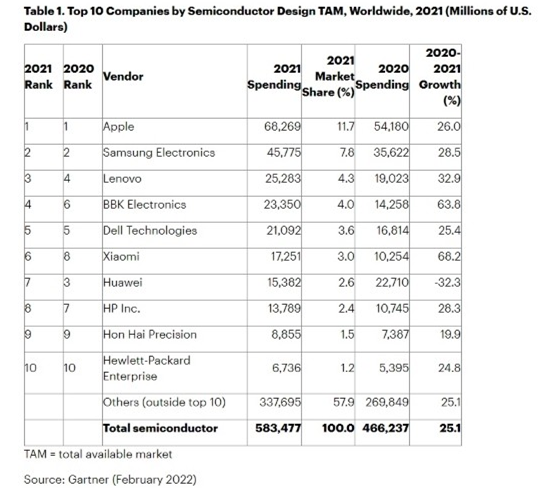 The market research firm's report on the top 10 semiconductor buyers worldwide shows that the OEMs increased their chip spending by 25.1% in 2021, reaching US$583.477 billion. Apple and Samsung are the 1st and 2nd buyers. Masatsune Yamaji, a research director at Gartner, said, "Semiconductor vendors shipped more chips in 2021, but the OEMs' demand was far stronger than the vendors' production capacity."
The IC purchase of Lenovo and BBK Electronics climbed by 32.9% and 63.8%, respectively. Huawei fell by 32.3%, the only one that saw decreasing trend of the top 10 OEMs.
Lenovo, the world's No. 1 PC maker, increased its CPUs, GPUs, and memory purchases. BBK Electronics owns three smartphone brands, including OPPO, Vivo and Realm, ranking fourth, fifth, and sixth worldwide in smartphone sales.
Dell, Xiaomi and Huawei followed closely behind BBK Electronics. In the No.6 position, Xiaomi's spending surged by 68.2%. It was the No.8 in 2020.
Apple kept its top place by spending $68.269 billion, up 26.0% over the previous year. Apple's performance was eye-catching in 2021. The iPhone12 and iPhone13 series were popular choices. The company is now working hard to develop its own CPUs to replace those from Intel, said the Gartner report.
Samsung Electronics came in second, with total chip purchases reaching $45.775 billion, up 28.5%. The South Korean tech giant is the world's largest producer of smartphones, TVs, and memory semiconductors, and the No. 2 player in the foundry market. Samsung Electronics' Device Experience (DX) division purchased a large number of chips from its Devices Solutions (DS) division.
Gartner stated that the average selling prices (ASPs) of chips, such as microcontroller units (MCUs), general-purpose logic ICs, and a wide variety of application-specific semiconductors, increased by 15% or more in 2021. "The semiconductor shortage also accelerated OEMs' double booking and panic buying, causing a huge spike in their semiconductor spending," said Yamaji.