China's Xiong'an New Area tests blockchain applications and digital transportation

04-08 18:41
Xiong'an New Area outside China's capital Beijing has become a testing ground for blockchain applications and the latest digital infrastructure technologies since 2020, as it celebrates the fifth anniversary of its establishment in April, according to a Global Times report on March 31.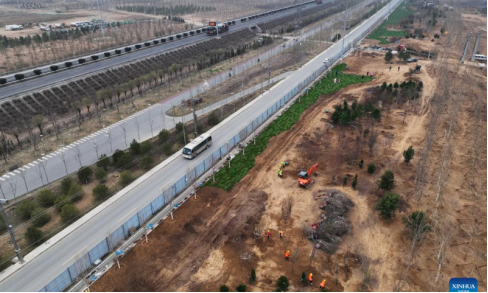 From digital currency and blockchain to autonomous driving remain buzzwords, but in Xiong'an New Area, China's "city of the future" under construction, has become ubiquitous in the daily lives of residents, Global Times reported.
The newest business adoption of the digital yuan came as the local branch of the Bank of China cooperated with BOC Fullerton Community Bank to jointly promote the application scenarios of digital yuan in non-operating institutions with the new cooperation model between banks, according to the official website of the Xiong'an New Area.
The new cooperation model between banks will provide non-operating institutions with functions such as opening digital wallets, connecting with cards, and a variety of functions.
Wang Peng, an assistant professor at the Gaoling School of Artificial Intelligence at the Renmin University of China, noted that the combination of digital yuan and blockchain technology has efficiently assisted the issuance of salaries to workers who participated in the construction of the Xiong'an New Area.
"Blockchain technology was embedded in the DNA of the Xiong'an New Area from the beginning," Xie Bingxin, vice secretary of Xiong'an Intelligent City Innovation Federation, told the Global Times, noting that the variety of blockchain application scenarios in the city is leading the entire country.
A total of 25 application scenarios, targeting urban management, digital finance, industrial ecology, e-trade, base system and public service delivery, have already been widely applied in the daily operation of Xiong'an New Area.
The construction of digital transportation is also an indispensable part of building the local digital infrastructure.
Several projects targeting digitalized roads have already been put in use, which integrated the digital information of the roads with facilities on the sides such as traffic lights, visual radar, and videos to better assist vehicles properly operate when using local roads.
As for trials for autonomous driving, Xie said the trials are proceeding smoothly and will be expanded following the continuous development of intelligent transportation and digital infrastructure, adding that the collaborative testing with technology enterprises is ongoing, Global Times reported.