Independent display chips become popular among Chinese smartphone producers, driven by higher demand for high-quality images

06-09 18:02
By Li Panpan
Since this year, major Chinese mobile phone makers like OPPO, Vivo, and Xiaomi have released their new models with independent display chips to meet growing demands for high-quality and high-frame-rate images, especially in mobile gaming. This sets off a new trend known as the "dual chips" strategy along with ISP and NPU chips, JW Insights reported.
OPPO first started with NPU chips and Vivo with ISP chips. Other brands like iQOO, Realme, and OnePlus also launched models, with the second chip being independent display chips.
For smartphones, the first core chip is undoubtedly the SoC chip, which is like a CPU for data processing in various critical scenarios, determining a phone's basic performance and user experience.
With the popularization of 5G network applications, users' demand for high-definition video and high-quality images of games has increased significantly. Wu Yijun, head of PixelWorks' investment project in VeriSillion, said that smartphone users increasingly demand high-quality displays on screens. It is challenging to meet those needs only with a CPU/GPU. Combining algorithm and hardware improvement is a suitable way to solve the problem.
Wu added that using dual chips can improve the overall hardware performance and present a differentiated and personalized experience for users. For a long time, general-purpose SoC chips have exacerbated the homogeneity of smartphones, and the "dual chip" strategy is possible to change this situation.
The models equipped with independent display chips in the Chinese market account for the largest proportion. Its advantage is that it has professional back-end image quality processing capabilities, with the technology from TV chip suppliers.
Pixelworks is the key supplier of independent display chips to the Chinese mobile phone makers, including OPPO, Vivo, Honor, Black Shark(Xiaomi subsidiary), iQOO, and OnePlus. Pixelworks is a U.S. company with 26 years of experience developing color management and visual processing chips for different display devices such as projectors, TV, and mobile phones.
Currently, the independent display chip is still improving. Sravan Kundojjala, associate director at mobile component technology services in Strategy Analytics, said that discrete chips provide stronger performance. However, it also adds more cost and board space, and there is still room for improvements."
Although it is technically feasible to integrate them, an industry professional said it is tough to implement. Therefore, for now, the independent display solution is still sustainable.
With the continuous improvement of wireless networks and smartphone performance in recent years, mobile games have gradually become the pillar of the gaming market. According to a recent report by the international data company Data.ai, the total global gaming market is expected to reach $222 billion this year, of which more than 61% will come from the mobile game market, or about $136 billion.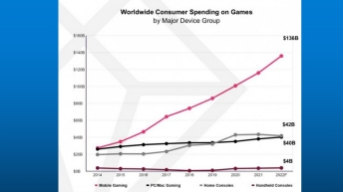 The JW Insights report pointed out that the independent display has become an important way for mobile phone manufacturers to improve product performance and differentiate themselves from others. With the iterative upgrade of the chip and improvement in the industry chain, mobile phone users will experience even better mobile video and games in the future.