ZTE collaborates with Thailand's largest mobile operator AIS to build the country's first 5G innovation center

06-16 16:44
By Miranda Li
China's leading telecom company ZTE recently signed an agreement in Bangkok with AIS, Thailand's largest mobile operator, to help it in 5G development, according to ZTE's Weichat account on June 14.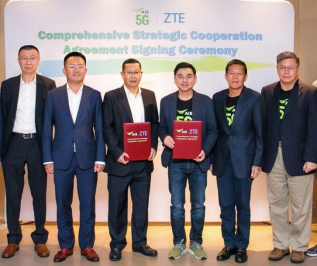 Source: ZTE
ZTE will support AIS in upgrading critical technologies such as 5G to improve the network quality and deliver enhanced user experiences to AIS customers.
ZTE and AIS will launch Thailand's first "A-Z center," a 5G Innovation Center, by the third quarter of this year. The two sides will give full play to their respective advantages, cooperate on 5G research in the field of vertical industries, and make every effort to facilitate the convergence of 5G in all sectors, serving the public and promoting the digital transformation in Thailand, said the ZTE announcement.
AIS said, "5G and other digital technologies are the important infrastructures to boost Thailand's digital economy. They bring us the potential in providing AIS customers, the Thai public, and parties in a series of vertical industrial sectors with various intelligent services and experiences."
ZTE said that it would continue to innovate in 5G technology solutions and applications and work with AIS to explore the vast potential of the 5G network in the digital economy era.
AIS and ZTE had cooperated on multiple 5G projects before. In 2021, the two sides jointly built a 5G intelligent demonstration plant in Thailand with Suranaree University of Science and Technology.
In March 2022, the two sides joined Qualcomm in setting up the world's first 5G NR-DC (New Radio Dual Connectivity) based on two major 5G frequency bands, Sub-6 and 5G mmWave.
ZTE Corporation is a global leader in telecommunications and information technology. Founded in 1985 and listed on both the Hong Kong and Shenzhen Stock Exchanges, ZTE provides innovative technologies and integrated solutions for global operators, government and enterprise, and consumers in over 160 countries across the globe.(校对/WM Zhang)