The Audi-FAW joint venture breaks ground on Audi's first EV plant in northeastern China's Changchun

06-30 19:33
The joint venture of Volkswagen's Audi and China's state-owned FAW Group has begun building Audi's first electric vehicle plant in northeastern China's Changchun of Jilin Province on June 28, reported Yicai Global.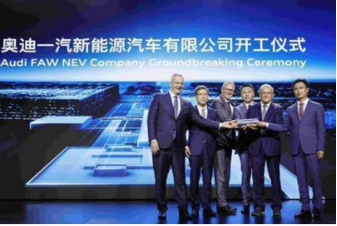 The project has a cost of €2.6 billion ($2.75 billion). It will make the Audi Q6 E-tron and Audi A6 E-tron based on VW's Premium Platform Electric(PPE).
The 150-hectare facility, with an annual capacity of 150,000 cars in Changchun, northeastern China's auto making hub, should be operational by December 2024. The joint venture is in charge of its investment, construction, and operation. Volkswagen and Audi own 60% of the joint venture and Jilin province-based FAW the rest.
President of Audi China Jürgen Unser said Audi will focus more on high-end products in the future and the Changchun plant will first produce the all-electric crossover Audi Q6 E-tron and the sportback concept Audi A6 E-tron and customize Audi's high-end ecosystem for the Chinese market.
Audi eyes a bigger share of China's growing new energy vehicle market. It plans to introduce five locally-produced pure-electric models in the Chinese market by 2025.
PPE is a modular EV platform co-developed by Volkswagen brands Audi and Porsche for larger EVs, including sport sedans and sport utility vehicles, said Yichai's report.