Press release: Innovation on RFSOI Antenna Tuner CanaanTek and INCIZE Belgium enter into strategic partnership

08-23 12:08
PRESS RELEASE
Recently CanaanTek and Incize reached an in-depth strategic cooperation on characterization of RFSOI CMOS devices for advanced processes at the Einstein High-Tech Park in Louvain-La-Neuve, Belgium. The two companies, which began their communication during last year's pandemic, had signed a formal cooperation agreement on 13 July 2021 in Brussels, Belgium, in the presence of Michel Kempeneers, the Chief Operating Officer of International affairs, at Walloon Export and Investment Agency (AWEX). This year, on August 18, 2022, in review of this collaboration, both parties have gone through device design, simulation and characterization, bringing valuable resources and device research results to CanaanTek. Therefore, both parties have decided to further expand the collaboration.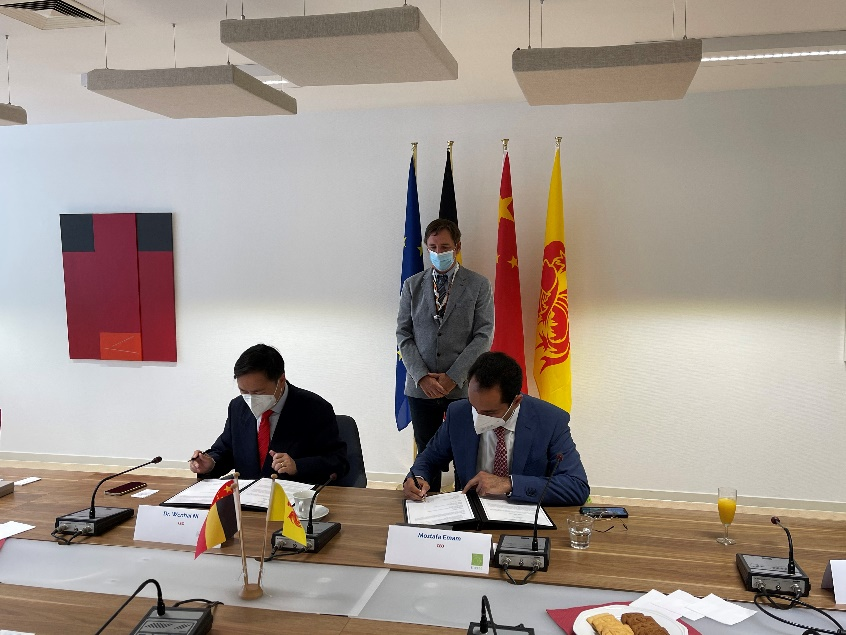 Dr. Wenhai Ni, Chairman and CTO of CanaanTek, and Dr. Mostafa Emam, CEO of Incize, signed a memorandum of cooperation on 13th July 2021.
Dr. Mostafa Emam, CEO of Incize, said "Incize is a Belgian company known for innovative device characterization, thanks to its industry-leading modeling, design and testing team of experts and state-of-the-art testing equipment. Advocating for the revitalization of the European semiconductor ecosystem, Incize strongly believes that, in order for RF front-end companies to design better RF chips, it is critical to innovate and upgrade the components on the underlying process line. Therefore, Incize is willing to collaborate deeply with innovative design companies like CanaanTek".
Yifei Yang, responsible for business development in Asia Pacific at Incize, said: "In the last few years, CanaanTek has a significant increase in sales and business. In 2021, Dr. Ni and Dr. Xu, representing CanaanTek, overcame the difficulties of the pandemic and came to Belgium to set up the European CanaanTek in person, providing a valuable example for Incize's business development".
Dr. Morin Dehan, a seasoned RFSOI device expert who started his technical journey in the UCLouvian twentyyears ago, said: "A high voltage RFSOI tuner which fits into an ultra-small package size is a challenge only attempted by a few companies worldwide. We believe that in addition to innovation in circuitry, layout and package design, innovation in RFSOI CMOS transistor level is critical.Morin who joined CanaanTek last year as the European site Director continued: "The location of the Europe CanaanTek in the French-speaking part of Belgium is in line with the Walloon State Government's high-tech policy for sustainable innovation. In addition to UCLouvain, Belgium is home to the world-class IMEC research center, and also several universities known for their research in IC design and RF technologies, such as the Dutch-speaking KULeuven and the Université Libre de Bruxelles. This local ecosystem will help us to find the right partners and talents to support our R&D ambitions".
The UCLouvian is known as the holy land of RFSOI, a technology pioneered and envisioned by Professor Jean-Pierre Raskin and later joined by Professor Dimitri Lederer in the same group, which saw widespread industrial applications. Based on Soitec's Trap Rich RFSOI technology, today 100% of the smartphones worldwide have various SOI chips in them, an amazing achievement. In the future, RFSOI has the potential to be further used in the 5G and 6G millimeter wave markets.
Eric Cheng, the new CanaanTek CEO, said: " CanaanTek has now made great stride in sales, in supply chain and in R&D through the past few years, which has laid a very good foundation for the company to continue to succeed. A typical smartphone has at least 2-4 antenna tuners. A mid-to-high tier smartphone with more than 10 antennas requires the usage of even more than 6-8 high performance antenna tuners. According to Yole Group, antenna tuner has a segment market size of 1.2B USD by 2025. In order to better provide sustainable competitive RF front-end chips for the smartphone or smart terminal manufacturers, CanaanTek decided to establish a European CanaanTek to strengthen the fundamental research. This ultra-high voltage, ultra-small package size antenna tuner project was carried out based on this consideration".
Starting 2014, CanaanTek specializes in the design, manufacturing and selling of the RF front-end chips for the consumer smartphone companies in China. The company headquarter is located in Pudong, Shanghai with R&D centers or branch offices in Hangzhou, Shenzhen, Beijing, Xi'An and now Belgium, Europe. The CanaanTek product portfolio consists of Antenna Tuners, the RF Switches and the Multimode and Multi-band LNAs. CanaanTek also collaborates with leading SAW/BAW companies in producing various RF module chips. In the future CanaanTek can also expand the market reach to 5G or 6G mmWave area. CanaanTek has already designed directly and in-directly into well-known brands like Samsung, Xiaomi and Transsion and many leading IOT module companies. The existing and future product roadmap portfolio will propel CanaanTek into high growth for the next few years.
Founded in Louvain-la-Neuve, Belgium, in 2014, Incize is a reference partner for RF semiconductor applications. Incize's team of experts offer services of electrical and optical characterization, simulation, modelling and PDK support, addressing problems such as substrate parasitic effects, noise, nonlinear behavior, variability and reliability. Incize has written several success stories with wafer manufacturers, foundries and fabless from all over the world. Incize's goal is to serve as an industrial enabler, bringing expertise and know-how to the semiconductor industry, helping to speed up IP development and reduce time-to-market, and contribute to the enhancement of RF technologies.