JW Insights: China's semiconductor investment enters a cooler-minded state

06-05 17:28
By Li Panpan
(JW Insights) June 5 -- There were 149 financing cases in China's semiconductor industry in the first four months of 2023, a year-on-year decrease of 19%, showed the China Semiconductor Equity Investment Report released at the JiWei Semiconductor Summit held in Xiamen, southeastern China's Fujian Province on June 2-3.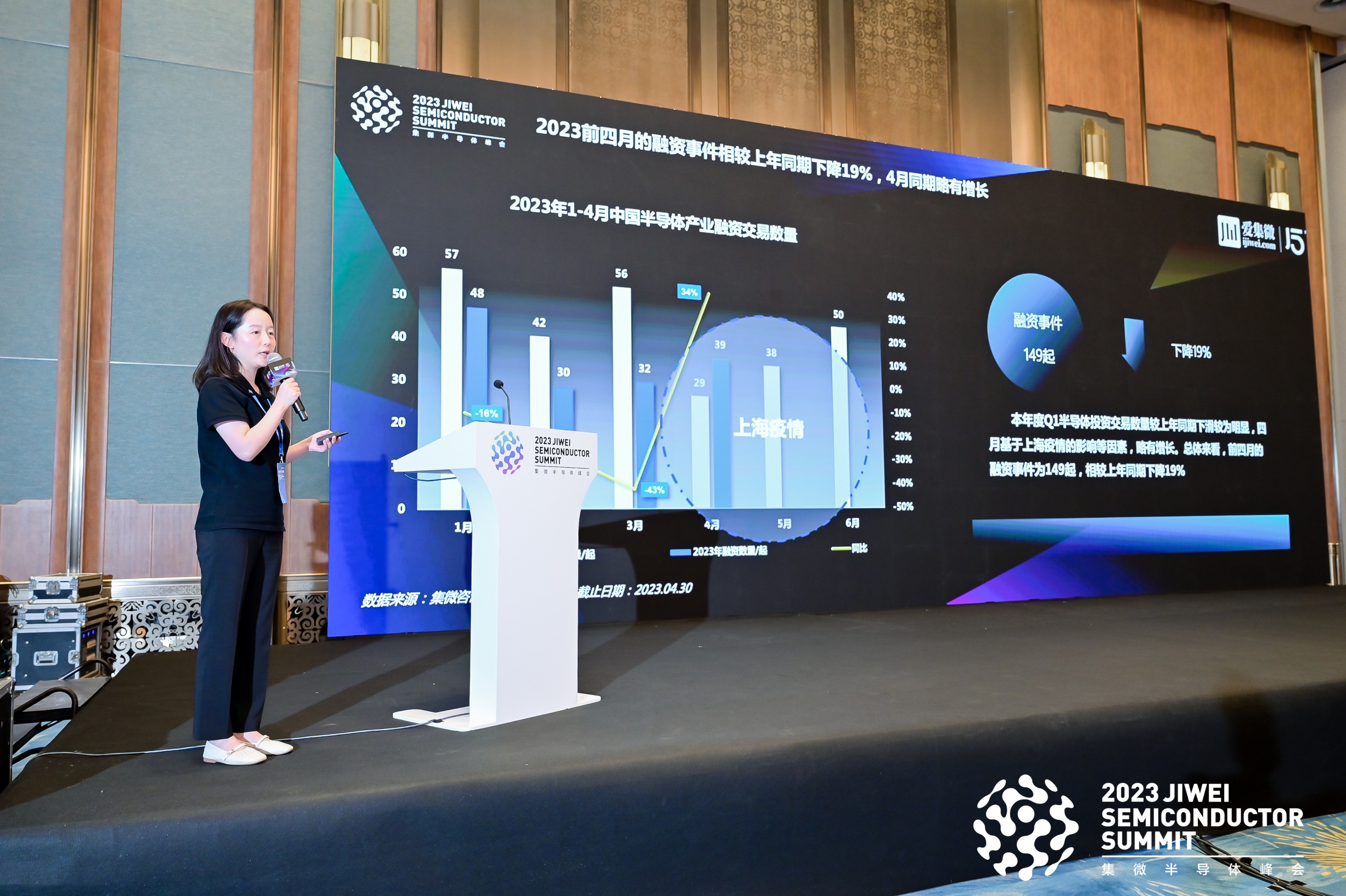 Investors are more cautious this year, which makes it more difficult for start-ups to obtain financing, showing a cooler-minded state of China's semiconductor investment layout, said JW Insights senior analyst Wang Yanli in her speech about the report analyzing China's semiconductor investment and financing situation from January to April 2023.
The total financing amount of those 149 cases was RMB21.84 billion ($3.07 billion), down by 37.5% year-on-year.
Forty-five of those 149 cases were in China's IC design sector, accounting for 31%. Among them, logic, analog chips, and microprocessors were of major interest.
Semiconductor materials and equipment ranked second and third in the total invested fields, with 21 and 17 financing cases, respectively, in the first four months of 2023.
Financing amounts in the top four fields of semiconductor materials, equipment, logic chips, and optoelectronic devices accounted for more than 45% of the total in the first four months of 2023.
Wang said, "Due to the hot growth of the ChatGPT market this year, the popularity of new energy vehicles in the past two years, and the low localization rate of automotive-grade chips, those chips for AI computing power, automotive-grade, and data center server received more attention."
But attention on the IC design has dropped significantly compared with the same period of the previous year due to the overvalued primary market and the cooling of the secondary market, said Wang. Since last July, investment institutions have expanded their interest to key technologies fields like upstream materials, equipment, and parts.
Semiconductor materials with a low localization rate, like photoresists and packaging substrates, caught more attention from investment institutions in the first four months of 2023, continuing the trend from last year. N-type silicon wafers were also noticed as demands for new energy vehicles and iterating photovoltaic technology rose.
In semiconductor equipment, the low-localized front-end quantity testing equipment and back-end packaging equipment have also attracted more capital this year.
More than 58% of the 149 cases in the first four months of 2023 were A-round and B-round financing, giving early and mid-stage companies more opportunities.
Among all the A-round financing, forty-six percent focuses on logic chips, semiconductor materials, optoelectronic devices, and semiconductor equipment.
In financing amount, most of the 149 cases were under RMB500 million ($70.28 million). Cases with less than RMB100 million ($14.06 million), RMB100-300 million ($14.06-42.17 million), and RMB300-500 million ($42.17-70.28 million) accounted for 40%, 30%, and 24% respectively of the total.
Seven cases were with more than RMB500 million ($70.28 million), and the highest was RMB 2.35 billion ($330.33 million). Those seven cases were invested in five companies, including SJSemi (盛合晶微半导体), Yuze Semiconductor (宇泽半导体), TYSic (天域半导体), B&C Chemical (徐州博康), and SiEngine Technology (芯擎科技).
By region, 39 financing cases in the first four months of 2023 were completed in Jiangsu Province, among which 49% were in the city of Suzhou;
There were 32 in Guangdong Province, among which 78% were in the city of Shenzhen;
And 21 were in Shanghai, among which 61% were in its Pudong New Area, according to the JW Insights report.