JW Insights releases ranking of 66 listed Chinese chip companies by their patent numbers with SMIC at the top

07-13 15:46
By Li Panpan
JW Insights recently released the rankings of 66 Chinese chip companies listed on the SART Market of the Shanghai Stock Exchange by patent number, and SMIC is No.1 with 12,467 patents, accounting for half of those of all companies.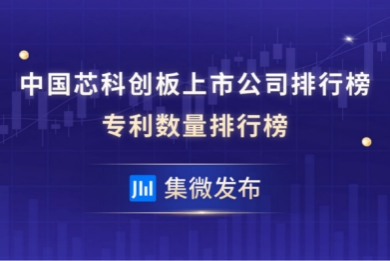 The rankings include the number of invention patents, utility models, and design patents. In the past three years, a total of 66 semiconductor companies have landed on the STAR Market with a total of 26,013 patents, of which the total number of invention patents is 18,715, accounting for 71.94%. The average total number of patents per company is 394, and 284 patents for invention.
Companies with more than 1,000 patents are China Resources Micro (2,123) and China Micro (1,179). 39 companies are with more than 100 patents, accounting for more than 50% of all the 66 listed semiconductor companies.
In invention patents, SMIC, China Resources Micro and China Micro are the top three. 22 companies have more than 100 invention patents, respectively, accounting for 33.3%.
The STAR Market debuted at the Shanghai Stock Exchange in Shanghai on July 22, 2019. This Nasdaq-style sci-tech innovation board has not only helped boost the capital market but also significantly increased the number of patents of listed companies. The compound annual growth rate of the total number of patents of Chinese chip companies after listing is 21.37%, and the compound annual growth rate of invention patents is 24.64%.
Liu Jing, director of Intellectual Property Rights Business of JW Insights, said intellectual property rights are indispensable for companies planning to list on the STAR Market. They should improve their intellectual property layout, so as to stay advanced in the industry and fully exert the value of the intellectual property and help the company in financing.