The 2021 Top 10 News in China's semiconductor industry

01-06 17:35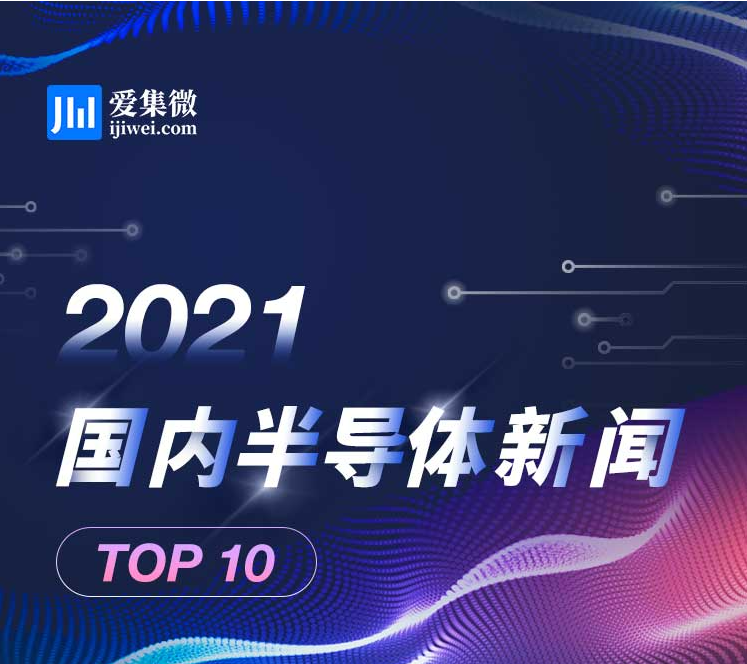 1. The Wise Road and JAC Capital Consortium takes over the Chinese debt-ridden tech conglomerate Unigroup

It has become approved by all related parties in December 2021 that the consortium formed by Wise Road Capital and JAC Capital to take over Unigroup (紫光集团), a semiconductor conglomerate which was bankrupt after years of debt-driven acquisitions.
In July 2021, Unigroup began to seek potential strategic investors to resolve its debt crisis. After four months, the Wise Road and JAC Capital Consortium emerged as the strongest candidate as the new investor. The two investment firms have extensive portfolios in the semiconductor field. Since 2015, they led respectively several major semiconductor company mergers and acquisitions with more than RMB10 billion($1.56 billion), including Nexperia and Ampleon.
2. SMIC undergoes major personnel changes
SMIC, China's largest and most important foundry announced on September 3 that Zhou Zixue had resigned as the chairman of the company and the chairman of the nomination committee of the board due to personal physical reasons. On November 11, SMIC announced that Jiang Shangyi resigned as the company's vice chairman, executive director and member of the strategic committee of the board because he planned to spend more time with his family. In addition to Jiang Shangyi's resignation, Liang Mengsong resigned as an executive director to focus on his responsibilities as a co-CEO. Meanwhile, Zhou Jie resigned as a non-executive director of SMIC; Yang Guanglei resigned as an independent non-executive director. Thus, SMIC's board of directors has been reduced from the original 15 people to 11 people.
3. China's A-share market ushered in semiconductor IPO wave with 77 companies filed for listing
Amid the background of China's pursuit of semiconductor self-sufficiency and stepping up domestic substitution efforts to reduce its high reliance on imports, more and more semiconductor players in China have started IPO preparation process. As of December 31, 2021, a total of 77 semiconductor companies have submitted their prospectuses in 2021 and have been accepted, the amount of funds raised reached RMB 106.2 billion($16.6 billion). These companies cover multiple sectors in the semiconductor industrial chain such as EDA, design, manufacturing, packaging and testing, materials, and equipment. Several semiconductor design companies and several semiconductor equipment companies completed IPO in the A-share market, including Bluetrum(中科蓝讯), Injoinic Technology(英集芯), Vanchip (唯捷创芯).
4. Beijing Stock Exchange was established to boost small and medium-sized companies especially with niche and innovation
The much-anticipated Beijing Stock Exchange officially opened on November 15, with 81 stocks of SMEs (small and medium-sized enterprises) trading on the exchange. Beijing Stock Exchange is the third one in the Chinese mainland (the other two are Shanghai Stock Exchange and Shenzhen Stock Exchange). The new board focuses on innovation-oriented SMEs as a way of boosting China's strategic high-tech industries, providing much-needed capital for SMEs, lowering their corporate financing cost.
5. The Chinese semiconductor industry investment and financing hit a new high of $17 billion
Statistics from JW Insights show that there were more than 570 financing activities in China's semiconductor industry in 2021. The total amount of funds raised hit a new high at RMB110 billion($17 billion). Semiconductor companies that obtained financing are mainly located in Jiangsu, Shanghai, Guangdong, Beijing, Zhejiang. The third-generation semiconductor, AI, analog IC, power semiconductor became the focus in last year's investment. ASMC(积塔半导体), ChiponeIC(集创北方), CCMC(中欣晶圆) received the largest amount of financing.
6. Rongxin Semiconductor acquired bankrupt HiDM, representing the first major private capital invested into wafer manufacturing
With RMB1.666 billion ($262.1 million), private equity company Rongxin Semiconductor (荣芯半导体) acquired through an auction the bankrupt HiDM (Huaian Imaging Device manufacturing Corporation德淮半导体) in Huaian, Jiangsu province. Rongxin Semiconductor was founded in April 2021 in Ningbo, Jiangsu province.
As a private capital, Rongxin's participation in wafer manufacturing by rescuing HiDM represents a new source of solutions to failed mega semiconductor projects that had occurred over the last several years. It is also regarded as a new force in improving China's foundry capacity, bringing more security in the country's semiconductor eco-system.
7. Integrated Circuits became a first-level academic discipline in China and top universities successively establish IC schools
China's Ministry of Education and the Academic Degree Commission under the State Council jointly issued on December 30, 2020, a document on establishing the "interdisciplinary" academic category, making "Integrated Circuit Science and Engineering" the first-level discipline in it.
From April to July in 2021, Tsinghua University, Huazhong University of Science and Technology, and Peking University successively established their School of Integrated Circuits.
8. A multi-company-cooperated semiconductor packaging and testing project won the first prize of the 2020 National Award for Science and Technology Progress
The project "Key Technologies and Complete Processes for Electronic Packaging with High Density and High-Reliability" won the first prize of the 2020 National Award for Science and Technology Progress, representing a huge honor and achievement for China's semiconductor industry. The project is a successful cooperation between several Chinese top-tier semiconductor packaging and test companies - NCAP China, JCET Group, TFME, and HT-Tech.
9. China's major mobile phone manufacturers develop their own chips
Top Chinese mobile phone brands raced to make their own chips in 2021: Xiaomi released its self-developed ISP chip Surge C1 and 120W charging chip Surge P1; OPPO launched its imaging NPU MariSilicon X, the world's first dedicated NPU chip for images; and Vivo released its first professional image chip ISP Yueying V1.
Developing self-owned chips is an important step for Chinese companies to face geopolitical changes and improve autonomy after the U.S. imposed sanctions on Huawei. It synergizes with the characteristics of mobile phone products, facilitating their makers to differentiate competitive advantages, contributing to the country's overall IC design improvement.
10. More than 400 Chinese IC design companies achieved over RMB100 million ($15.7 million) revenue in 2021
The data from ICCAD – China's top IC design industry association - show that the sales of China's chip design industry in 2021 are expected to reach RMB458.69 billion ($72.2 billion), with a 20.1% year-on-year increase. There are 413 companies whose revenue is expected to reach RMB100 million ($15.7 million) with a 42.9% increase. The number of IC design industry practitioners is estimated at 221,000.