China's CPU provider Loongson Technology launches its first embedded software development solution for industrial IoT

01-18 22:21
Editing by Xin Lanhua
Beijing-based CPU supplier Loongson Technology (龙芯中科) announced that it jointly launched with China Mobile IoT (中移物联网) a Loongson 2K0500 platform-based embedded software development solution for industrial IoT. It is its first board-level solution, marking a substantial progress for its LoongArch embedded eco-system.

The solution adopts the OneOS IoT operating system from China Mobile IoT, with scalable expansion and low power consumption. Designed for industrial control IoT, this solution can be used in actual data transmission scenarios such as engineering vehicles, robots, buildings, electric power, logistics, and energy, facilitating innovation in the industrial control applications, said press release.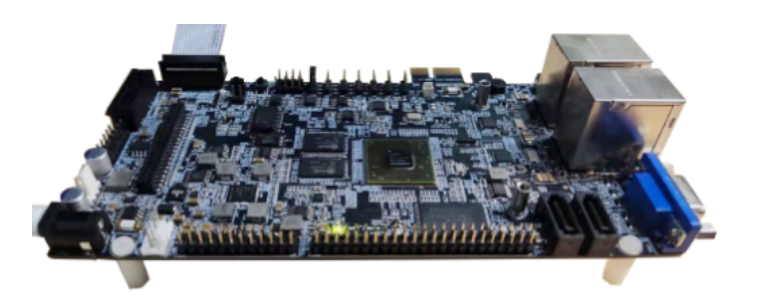 Loongson 2K0500 is a CPU for applications like industrial control, printing terminals, and BMC (Baseboard Management Controller). It is based on a 64-bit LA264 core and LoongArch independent instruction system architecture. The platform integrates a 32-bit DDR3 controller, 2D GPU, DVO display interface while supporting PCIe2.0, SATA2.0, USB, GMAC (Gigabit media access controller), PCI bus, printing interface, HDA, and other general interfaces.
OneOS is a lightweight operating system China Mobile launched for IoT applications, supporting mainstream architectures like LoongArch, compatible with standard interfaces such as POSIX and CMSIS. Micropython language and graphical development tools can run on it. OneOS offers soft PLC development kits, high-precision indoor positioning, and other capability components.
Founded in 2008, Loongson Technology concentrates on developing, selling processors, related chips and software as well as services. Its products are categorized as No. 1 series, No. 2 series, No. 3 series, and LoongArch architecture. The Loongson 2K0500 belongs to the No. 2 series.
The company operates branches in Nanjing, Hefei, Jinhua, Shanxi, Guangzhou, Xi'an, Wuhan, and Chengdu.
China Mobile Internet of Things is a wholly-owned subsidiary of China Mobile. It launched the IoT operation system- OneOS in June 2020, winning the NICT award for it and innovative IoT applications.