Chinese IC industry will deal with a 50% salary raise in 2022 due to talent shortage and more overseas talents will return home

02-18 22:08
Editing by Li Panpan
Chinese chip companies are in severe need of talents to grow their business, as a large amount of capital flows into the industry. The "2022 Talent Trend Report" released by Hudson, a Chinese HR consulting firm, pointed to a conservative estimate that there will be a 50% salary increase in job hunting by IC talents.

According to the report, the salary of talents has also shown a clear growth trend with the arrival of both the global golden development decade for the IC industry and the severe shortage of talents. The industry will have the highest salary increase in job-hopping in 2022.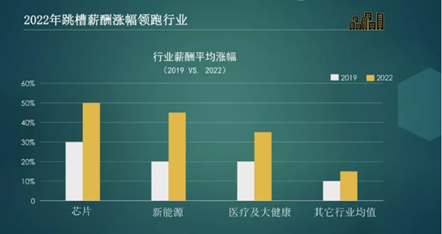 The influx of a large amount of capital has led to the dynamic performance of Chinese chip companies, especially in their R&D activities. But a limited number of top R&D talents are sought after. Hudson expects that the top positions leading the salary increase list in 2022 will be R&D engineers for smart cars and other advanced chips, with an increase of 50%. Hudson also said candidates have many positions to choose from with the salary they want.
For example, those companies with massive demand for middle-level talents at annual salary level of RMB200,000 to 400,000($31,570 to 63,140) face less market supply.
In another major trend by the Hudson report, rapid-developing Chinese semiconductor industry with more attractive salary and broader career prospects have attracted the return of many overseas talents and the flow of talents from foreign companies to local companies and start-ups.
Hudson pointed out that more than 70% of overseas respondents indicated that they plan to return to China in the next couple of years.
More than 56% of the respondents prefer to join Chinese companies, including state-owned enterprises, listed companies, private and innovative companies or platforms, with strong growth momentum offering incentives like high salaries and more.
Twenty-two percent of the respondents consider salary and benefits the top factor for accepting a new job, followed by corporate development prospects (20%) and personal development space (19%) and others like company culture, values, and job satisfaction.
According to the 2021 JW Insights Semiconductor Talent Report,"Salary increase" has become the direct way for Chinese companies to poach competitors, which undoubtedly increases the entire industry's labor cost. The fundamental solution to talent shortage is to increase efforts to cultivate talents.
As of 2020,28 Chinese universities have been selected to be included in the national plan for building the "Demonstrative Microelectronics Institute."
Last November, the Ministry of Education announced the list of the first batch of 18 universities that can authorize doctoral degrees for first-level disciplines in IC science and engineering.