Most Chinese high-education graduates with IC majors turned to work in other industries, JW Insights White Paper finds

07-02 18:01
Editing by Kate Yuan
Most Chinese high education graduates with IC majors turned to work in other industries, one factor for the current talent shortage blocking China's ambition to grow its IC industry. This surprising finding from the JW Insights White Paper on China's IC industry Talents (2019-2020) was released at Jiwei Semiconductor Summit 2021 (JWSS) last weekend.
The white paper quotes China's Ministry of Education data that there were 8.34 million college graduates in China in 2019; Those related to IC were about 200,000, 2.39% of the total number. But only 25,800 IC-related graduates joined the industry, just 12.92% of the total. 25.89% of others turned to the Internet, computers, communications, and IT.
Among the 200,000 graduates, 6.03% had master's degrees or above, 69.35% bachelor's degrees, and 24.62% below bachelor's degrees.
Zhu Hangou, a senior analyst at JW Insights, presented the White Paper at the Analyst Conference held during the summit.
Zhu said, "We believe that the fundamental reason behind the loss of talents to other industries is that young people cannot settle down in an industry like IC requiring a longer cycle of training to be qualified for the jobs. They are more likely to be attracted by factors such as higher salaries, daily life-related products, and hot projects.
To turn out more talents for the IC industry, the Ministry of Education and Ministry of Industry and Information Technology, and four other ministries had the initiative to establish a "demonstrative microelectronics schools" coalition. So far, 28 universities have been listed in the coalition.
According to JW Insights statistics, 7,410 students graduated from such demonstrative schools in 2020. Among the graduates were 511 with doctorate degrees, 3,256 masters, and 3,643 bachelors. 56% (4,612) graduates chose to work; 38% pursued advanced studies (727 to overseas and 2,053 at home); 6% (468) stayed unemployed.
According to the JW Insights data, over 98% of their positions need a bachelor's degree and above for IC company recruiters.
On the side of the graduate job-seekers, private and joint venture companies are the most popular choices, covering 45.7%. 28.9% chose state-owned enterprises, 12.2% went to foreign companies, and 5.4% worked at universities or institutes, the White Paper showed.
Preferred Company Types by Graduates from Demonstrative Microelectronics Schools in 2020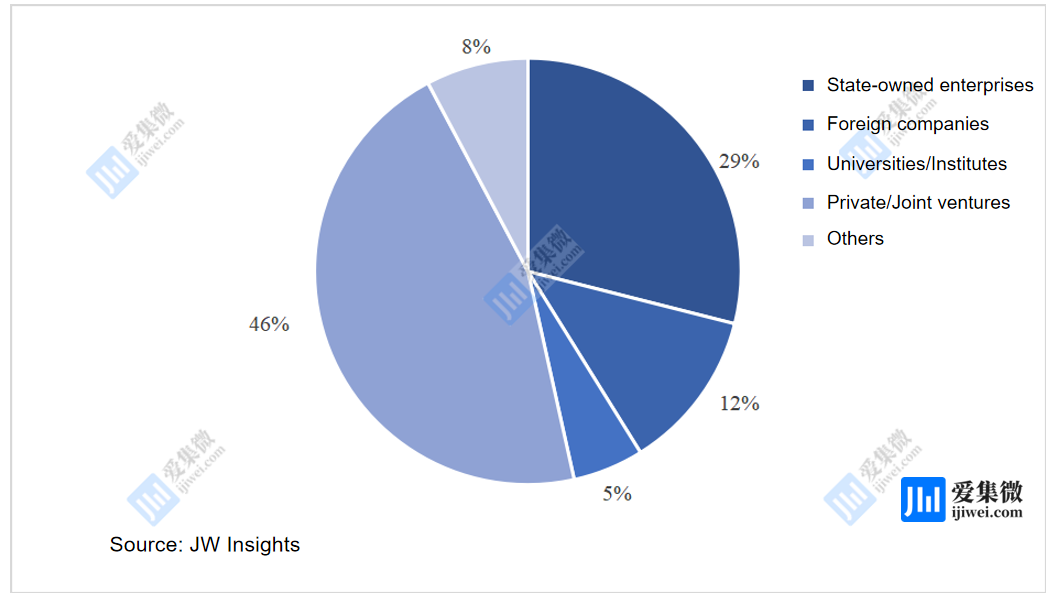 As for city preference, first-tier cities and provinces were more attractive. Guangzhou, Shanghai, Jiangsu, Beijing, and Zhejiang had the most inflow.
Beijing, Shanghai, and Guangdong province were the most preferred destinations.
The graduates from key electronics-major universities in cities such as Beijing, Shanghai, Nanjing, Xi'an, Hefei, Wuhan, Chengdu, Hangzhou, and Guangzhou preferred to work locally.
The White Paper also reported that first-tier cities offer higher salaries and more mature industrial facilities. The average annual wage of IC employees in first-tier cities was the highest in 2020 - RMB320,000($49,231) per year, which was nearly 87% higher than the RMB170,000($26,154) in the third-tier cities.
As a talent-intensive industry, top semiconductor companies like to set up their R&D centers in first and 2nd tier cities, aggravating the competition for talents and the imbalance of salary levels.