The Average Salary Ranking List of China's listed Semiconductor Companies released

12-22 20:05
Editing by Kate Yuan
JW Insights released the Average Salary Ranking List of China's Semiconductor Companies listed on the A-share market on December 18 in Beijing. Fullhan Microelectronics topped the list with an average salary of RMB433,800 ($68,000) in the first half of this year. This means that its annual salary should be at RMB867,000 ($136,079).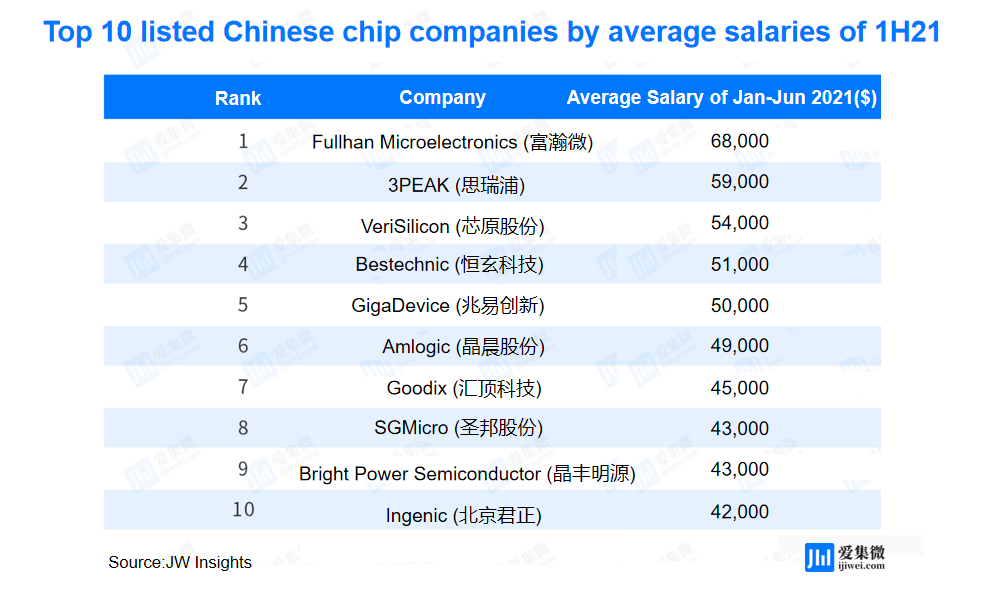 The comprehensive average salary of the companies on the list is RMB99,000 ($16,000) in the first half of 2021, a 22.30% year-on-year increase. That number of six companies exceeded RMB300,000 ($47,000), 26 companies more than RMB200,000 ($31,000), and 59 companies over RMB100,000 ($16,000).
Nine companies' average salaries surged by over 50% compared with that of last year over the same period. Zhonghuan Semiconductor's data more than doubled with a 103.75% increase.
This list covers 118 listed chip companies, covering design, manufacturing, packaging and testing, equipment, materials, IDM, and electronic components. GalaxyCore (格科微) and awinic (艾为电子) are not on the list for having not disclosed related information.
JW Insights – the leading Chinese information and consulting services on semiconductor and ICT industries – tracks the listed Chinese semiconductor and parts companies, grouping them into the semiconductor, mobile phone, and automobile categories and researching them from different perspectives.