China's IC sales exceed RMB1 trillion for the first time with imports hitting a record high in 2021

03-15 15:35
Editing by Kate Yuan
China's IC sales stood at RMB1,045.83 billion ($165.45 billion) in 2021, increasing by 18.2% year on year, according to statistics from the China Semiconductor Industry Association (CSIA). This is the first time the figure surpassed RMB1 trillion ($158 billion).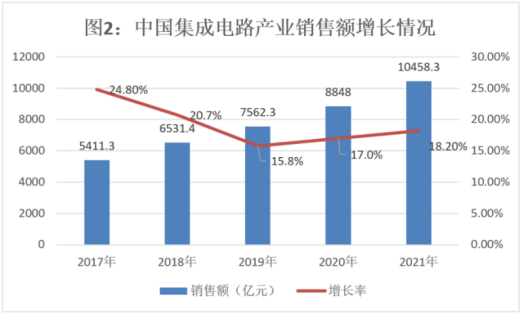 Among them, the sales in the design sector were RMB451.9 billion ($71.49 billion), up by 19.6%. That of the manufacturing sector reached RMB317.63 billion ($50.25 billion), up 24.1%. The sales of the packaging and testing sector hit RMB276.3 billion ($43.71 billion), rising by 10.1%.
2021 is the first year of China's "14th Five-Year Plan"(2021-2025). Driven by the sound domestic macroeconomy, the domestic IC industry continued a rapid and stable growth trend, said CSIA.
China's IC imports and exports also saw a relatively high growth rate last year. The IC import hit 635.48 billion pieces in 2021, up by 16.9% year on year, valued at $432.55 billion, surging by 23.6%, according to China's General Administration of Customs.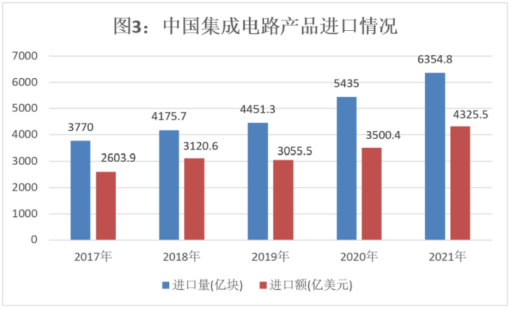 The IC exports were 310.7 billion pieces, a year-on-year increase of 19.6%, hitting $153.79 billion, registering a 32% jump.
The global semiconductor market grew rapidly in 2021 driven by strong market demands. The World Semiconductor Trade Statistics Organization (WSTS) said that the global semiconductor sales reached $555.9 billion last year, up by 26.2% year on year. China remained the largest semiconductor market.