Chinese leading automobile maker Changan Auto admits chip shortages and other challenges but has managed them well for its newly launched high-end EV brand Avatr

06-17 23:49
By Miranda Li
Chongqing Changan Automobile (Changan Auto 长安汽车), one of the top four automobile groups in China, acknowledged that shortages of chips are the biggest handicap it faces in operation, but it is managing to meet its goal of delivering over 100,000 of its newly launched EV brand Avatr in the next three months.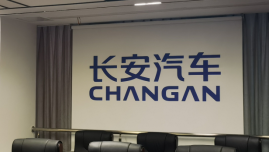 JW Insights learned about the company's latest performance during its 2021 annual general meeting of shareholders at its headquarters in southwest China's Chongqing City on June 15.
Changan Auto launched its high-end new energy brand Avatr globally in Shanghai last November and it has become one of the most popular brands in the current market. At the shareholder meeting this week, Changan Auto announced three new investors and raised a total of RMB 2.42 billion ($360.338 million) for Avatr, paving the way for its subsequent development.
But in the first five months of this year, the car sales market was generally tough. According to the data of the China Passenger Car Association (CPCA ), the sales of passenger cars from January to May in the country this year were 7.315 million, down 12.8% year on year, with a yearly decrease of 1.07 million.
The sales of Changan Auto were hurt in the same period at 451,543, a year-on-year decrease of 15.5%.
Zhang Deyong, the secretary of the board of Changan Auto, told JW Insights, "There is a gap between the year-on-year sales decrease in the January to May period and our expectations and plans. The gap is mainly due to the pandemic and supply disruption. Many production bases were shut down in April and May. The production of the whole series of automobiles was greatly affected without sufficient chip supply."
Changan Auto has been taking various measures to cope with the chip shortages. It has managed to sign a short-term agreement with existing suppliers. "We are also developing a long-term strategic relationship with them," Zhang said.
The company also tries to multiply sourcing channels and adopt domestically made chips as supplements and substitutions. Zhang said, "We highly encourage outstanding domestic IC companies to cooperate with us. In addition, we are actively stepping up our R&D, adjusting our product structure in the type and number of chips we use."
The price hike of chips is another severe issue affecting most car manufacturers. Changan Auto has set up a "special cost reduction team" to lower costs and optimize its EV with a package of action plans.
The company has set up a technical team of more than 5,000 talents, with many in new energy intelligent software development. For its marketing and sales management, Changan Auto digitalized its system for handling orders, delivery, and services. Zhang said these helped bring down costs and lift Avatr's profits.
Despite the brutal competitive environment, Zhang said that his company is confident about Avatr's future. "Our conservative goal is to deliver more than 10,000 vehicles within three months. With strong market response and positive media feedback, Avatr's popularity will stay for a long run," he added.(校对/WM Zhang)