JW Insights releases the 2022 Top 100 Chinese Semiconductor Companies Research Report with Wingtech, Will Semiconductor and YMTC being the top three

12-19 16:39
By Greg Gao
JW Insights unveiled the 2022 China's Top 100 Semiconductor Companies Research Report, with Wingtech(闻泰科技), Will Semiconductor(韦尔半导体) and YMTC(长江存储) making the top three in the list. The report was presented at the 2023 China Semiconductor Investment Alliance Annual Meeting and China's IC Industry Awards Ceremony held in Hefei, the country's eastern Anhui Province on December 17.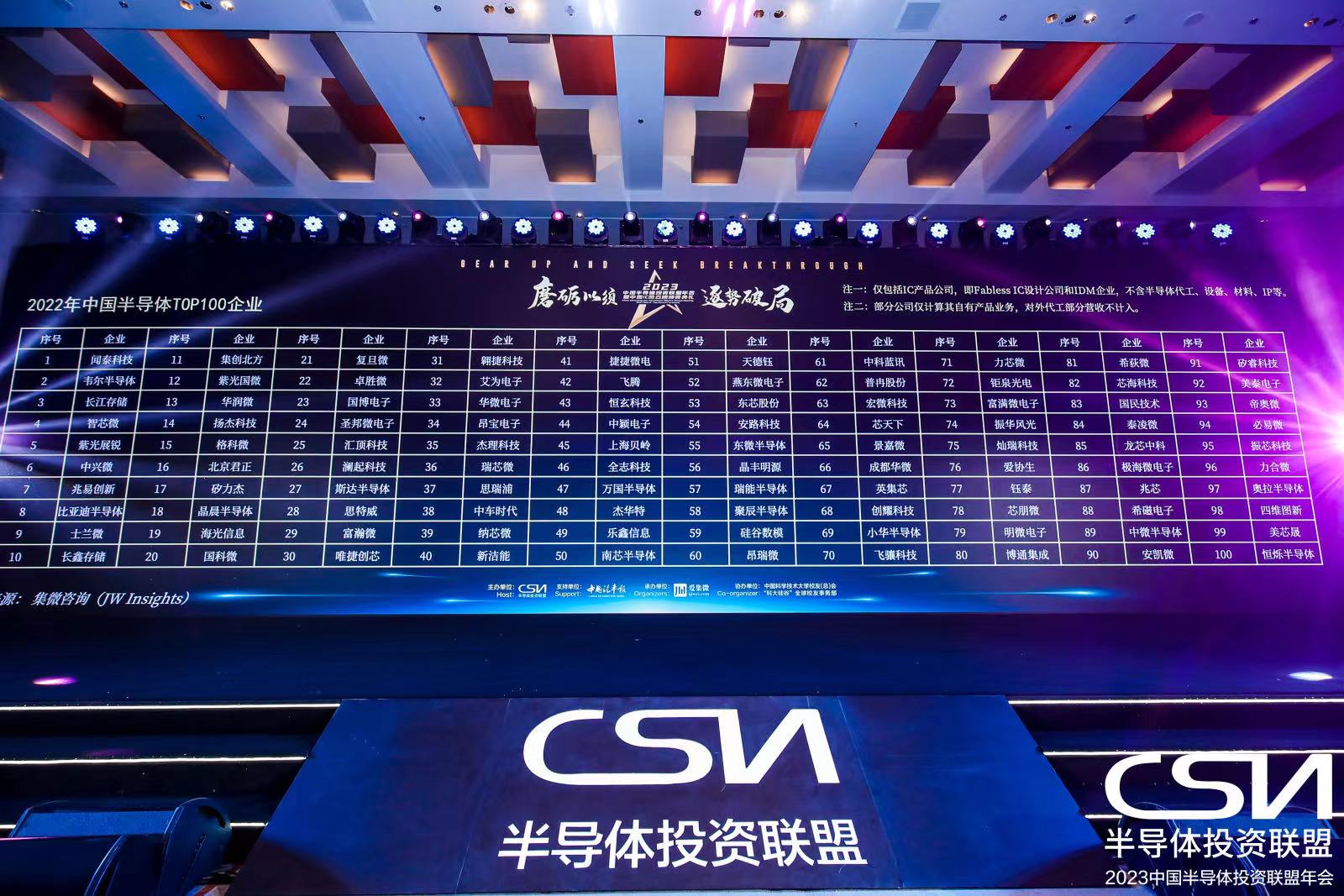 The other seven companies in the top ten are Zhixin Semiconductor (智芯微), UNISOC (紫光展锐), Sanechips (中兴微), GigaDevice (兆易创新), BYD Semiconductor(比亚迪半导体), Silan (士兰微) and CXMT(长鑫存储).
Zhao Yi, research director of JW Insights Consulting Division, presented Top 100 Companies Research Report, which analyzes their development status from multiple dimensions and indicators such as revenue, business field, market value, geographical distribution, and PE Ratio of listed companies. It also makes a comprehensive prediction on the development trend of the global semiconductor market next year.
In 2022, the total revenue of China's top 100 semiconductor companies reached RMB269.9 billion($38.65 billion), a year-on-year increase of 3.5%, of which 54 companies have revenue growth of more than 5%, said Zhao. 
The entry revenue threshold of the top 100 companies this year was RMB450 million($64.4 million), while last year, the number was RMB300 million($43 million). The top ten companies' threshold has increased from RMB7 billion($1 billion) last year to about RMB7.5 billion ($1.074 billion).
From the perspective of business fields, companies in analog IC, power IC, memory, MCU, CPU/GPU, and RF accounted for 67% in the top 100 list. Revenue growth in power IC, CPU/GPU, sensors, FPGA is the most obvious. 
In terms of geographical distribution, most companies on the list are concentrated in Shanghai, Guangdong Province, Jiangsu Province, Beijing, and Zhejiang Province, with as many as 82 companies. 
Among the top 100 companies, 70 companies have been listed on China's stock exchanges, and nine are in the IPO application process.
Zhao also analyzed in detail the current development status of enterprises in key segments such as memory, power IC, MCU, and radio frequency equipment. 
Following the strong growth of the global semiconductor market in 2021, the market confronted rising inflation and weak demands, going into a downward cycle in the second half of 2022. Although many market research agencies have forecast sharp declines, Zhao said it is likely that the global semiconductor market will drop slightly by 3% to 5% next year, and he remains optimistic about it. 
The memory market will drop sharply next year, while other fields, such as discrete devices and sensors, will still maintain a slight growth trend. Applications for smartphones, automobiles, and industries will continue to grow, Zhao predicted.
Among the top 100 companies, there are 12 MCU makers, with 11 of them winning growth. But competition will become fiercer among the segmented MCU sector with over 100 such Chinese players in the market. Mergers and integrations will take place. 
In RF chip sector, more Chinese makers will gain market shares, as products and technologies for filters and PA are upgraded.
China has deepened its push for domestic substitution and self-sufficiency in semiconductor supply in many fields. The differentiation among the chip companies is becoming more prominent in their products and markets. They have gained unique advantages, but will face severe challenges next year, concluded Zhao's report.