Yole: China's lead in power GaN consumer devices drives the future use in telecom/datacom and automotive

03-07 16:06
By Kate Yuan
(JW Insights) Mar 7 -- As wide bandgap materials start to replace silicon in power electronics, GaN's foothold in the consumer sector, particularly in China, is set to drive considerable growth in the power device market over the next few years, according to Yole's report on March 2. The power GaN device market will be worth $2 billion by 2027, up from $126 million in 2021.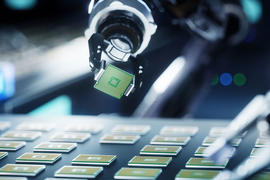 The consumer sector has been the main driver of GaN adoption by OEMs. Consumer applications are expected to grow from $79.6 million in 2021 to $964.7 million in 2027 in the power GaN market, with a 52% CAGR, said Yole.
Innoscience (英诺赛科) and Sanan IC (三安) are two important Chinese players within the power GaN ecosystem helping to propel China's lead. Innoscience is the largest 8-inch IDM focused on GaN technology in the world; while Sanan IC is a compound semiconductor wafer foundry that provides a GaN foundry service for high-efficiency power designs.
While electronics OEMs in other regions have GaN fast-charging products, the far higher number of Chinese OEMs, supported by the region's excellent manufacturing capacity and dedicated supply chain, allows the region to dominate in the power GaN consumer space, said the Yole report.
Fast charging has been the main application propelling this adoption, thanks to the demand for faster, cheaper and more ecological powering of electronics devices.
With GaN, smartphone manufacturers can make chargers with smaller case sizes, and with an improved price over power ratio. Despite the unit price of GaN-based devices being more expensive than silicon, the higher frequency and higher power density values result in a lower dollar per Watt. Comparing Samsung's silicon- and GaN-based chargers helps to demonstrate this: Samsung's 45W Si fast charger has a power density of 0.55W/cm3; while its 45W GaN-based charger boasts a 0.76w/cm3 power density with almost 30% smaller footprint. Other comparisons between silicon and GaN products are made in Yole Intelligence's report.
Chinese OEMs such as Xiaomi, Vivo, Lenovo, OnePlus Technology and Nubia are just a few of the companies mentioned in the report who have released fast chargers in the last two years.
A limited number of high-wattage devices exist today, such as Xiaomi's 210W fast charger, which allows users to charge its Redmi Note 12 Discovery's 4,300mAh battery from empty to full in just nine minutes.
A new trend to target power higher than 75W for smartphone fast chargers could boost the adoption of GaN by smartphone OEMs in the near future. Meanwhile, the last few years have seen an increasing number of car makers partner with GaN device providers, said the Yole report.