Counterpoint: Chinese smartphone maker HONOR achieves 110% surge of sales in the premium market in 2022
Chinese article by
lauryn

03-22 18:41
By Kate Yuan
(JW Insights) Mar 22 -- Chinese smartphone maker HONOR jumped 110% in sales in the premium market in 2022, while Huawei and Xiaomi both declined by around 40%, according to the latest report by Counterpoint.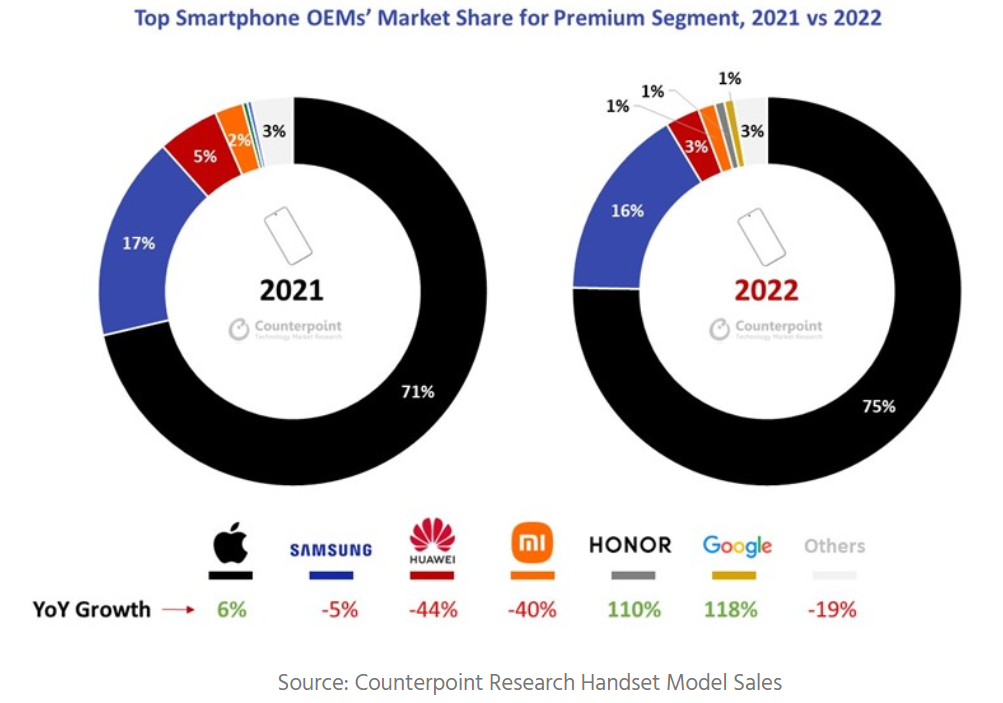 Spanned off from Huawei's mobile phone portfolio in 2020, HONOR gained from a low base. It expanded noticeably its market share in China driven by its Magic series. The brand will make a global push in 2023. Most Chinese OEMs declined as they derived a significant portion of their flagship sales from the domestic market, where operating conditions were difficult in 2022, the report said.
The overall global smartphone sales in 2022 fell 12% YoY due to macroeconomic difficulties, while global premium (≥$600 wholesale price) smartphone sales climbed 1% YoY in contrast, which allowed the price segment to contribute to 55% of the total global smartphone market revenue for the first time ever.
Varun Mishra, senior analyst at Counterpoint and author of the report, pointed out several reasons for the growth. Affluent consumers were more immune to the macroeconomic difficulties despite the tough market conditions in 2022. Also, people are ready to spend more on their devices and retain them for a longer period as smartphones become more central to their lives. Besides, emerging economies where consumers on their third or fourth device start to break into the premium market.
Among OEMs, sales for Apple grew 6% YoY in the premium market, expanding its share to capture three-fourths of the total sales in the segment. Apple also gained from Huawei's decline in China.
In terms of penetration of operating systems, Android has been ceding share to iOS in the premium segment. iOS captured three-fourths of all smartphone sales in the premium market.
However, Counterpoint expected Android could see a new wave of growth in 2023 as more OEMs to launch foldable devices in the premium segment this year. Existing foldable offerings in China are set to expand to markets outside the country. HONOR's pushing into the European market could gain share this year.