Eight companies and universities in Hubei province in middle China cooperate to work on automotive-grade chips

05-14 10:15
By Li Panpan
Eight companies and universities in central China's Hubei Province set up a consortium to work on automotive-grade chips together with the province's automobile giant Dongfeng Motor Corporation(东风公司). A ceremony for the consortium was held on May 8th in Wuhan Economic and Technological Development Zone in Wuhan.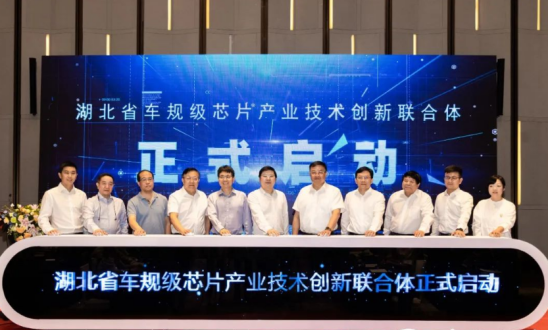 Driven by the annual demand for automotive chips for millions of vehicles by Dongfeng Motor Corporation, the consortium aims to build a leading automotive chip industry base with design, manufacturing, packaging, and testing capabilities.

The members in the consortium are Dongfeng Motor Corporation, Wuhan FisiLink Microelectronics(飞思灵微), Wuhan Lincontrol Automotive Electronics(菱电电控), Wuhan University of Technology, Huazhong University of Science and Technology, Nuclei System Technology(芯来科技), and TDK(泰晶科技), China Automotive Technology Research Center Co., Ltd., and Rigger Micro Technologies(锐杰微).
Last year under the shortage of automotive-grade chips, Hubei authorities allocated RMB10 million($1.47 million) to start a major project "developing automotive-grade MCUs, special-purpose and controller chips."
Founded in 1969 and listed on the Stock Exchange of Hong Kong Ltd., the Wuhan-based Dongfeng Motor Corporation is one of China's largest auto groups, covering the full range of commercial vehicles, passenger vehicles, and new-energy vehicles, engines, auto parts, and components, and other auto-related business.