Chinese leading EDA company Primarius wins global giants Samsung, Micron, and TSMC as its clients

07-04 19:15
By Li Panpan
Chinese leading EDA company Primarius (概伦电子) said that it has already won international giants like Samsung, Micron, and TSMC as long-term customers with its world-class competitiveness. Its president Yang Lianfeng updated on the company's latest performance in its 2021 annual general meeting of shareholders on June 28.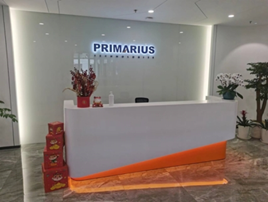 Primarius achieved revenue of RMB91.52 million ($13.66 million) in China last year, a year-on-year increase of 42.92%, and a revenue of about RMB100 million ($14.92 million) in overseas markets, a year-on-year growth rate of 37.96%, according to its 2021 annual report.

Primarius was founded in 2010 and listed on the Shanghai Stock Exchange STAR Market in 2021.
Yang said his company would continue the strategy of investing in investment in sales to small and medium-sized Chinese customers to expand sales and customer support resources.
He said that the key to developing the Chinese EDA industry is to build a better ecosystem for foundries and design companies to grow sustainably, which is far more meaningful than imitating the shelf products of overseas giants.
The revenue growth rate of Primarius reached 41.01% last year, but the net profit attributable to the parent decreased by 1.41% year on year. The main reason is attributed to continued investment in employees facing a competitive talent market with more companies offering high salaries. It also carried out multi-level joint training of talents with many Chinese colleges and universities.
Primarius acquired South Korean EDA company Entasys Design in 2021 and set up a joint venture industry fund in Jinan to develop CVC businesses with some incubated projects. It was another successful move by Primarious, commented an industry observer.