Counterpoint: global cellular IoT module chipset shipments grow by 35% in Q1 2022

07-15 17:11
By Li Panpan
The global cellular IoT module chipset shipments in the first quarter of 2022 increased by 35% year-on-year, said market research company Counterpoint Research in its latest report.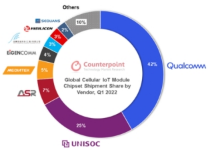 The report noted that the Chinese mainland was the key region for cellular IoT module chipset consumption during the quarter; The Chinese mainland, North America, and Western Europe accounted for over 75% of the volume.
Qualcomm, UNISOC(紫光展锐), and ASR (翱捷科技) held the top three positions in the global cellular IoT module chipset market in Q1 2022; Their market shares are 42%, 25%, and 7%, respectively, followed by MediaTek (5%), Eigencomm(移芯通信4%), Xinyi Technology(芯翼信息3%), Huawei HiSilicon (3%), and Sequans(2%).
Although Qualcomm ranks first with a 42% market share, there are six Chinese manufacturers, including MediaTek, in the top eight players, supported by an extensive application market in China.