JW Insights plans eight influential events in 2023 for the semiconductor industry

02-16 17:51
(JW Insights) Feb 16 -- JW Insights, China's leading information and consulting services provider on semiconductor and ICT industries, announced that it will hold eight events for the IC industry, including four industry conferences, two startup and talent competitions and two job fairs.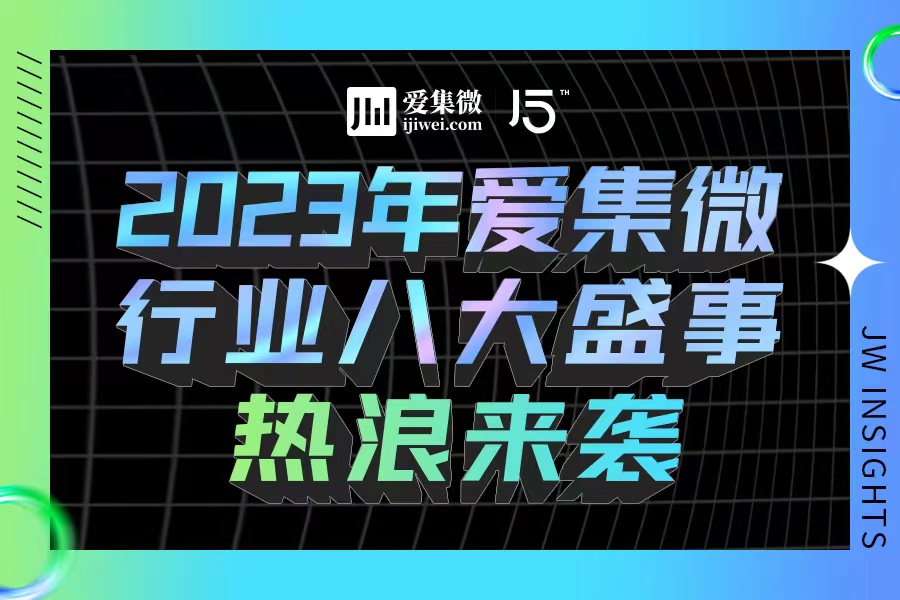 The 2023 Global Semiconductor Industry Strategy Summit (2023 GSISS) will bring together over 20 well-known analysts, experts and investment executives from leading institutions to share their professional and in-depth insights on the semiconductor industry.
Major topics will cover global industry trends and European and US semiconductor policies. It also includes topics related to industry chains, such as materials, equipment, manufacturing, and packaging and testing.
To be held in Macau, China on April 7-8, the event is now open for registration (for more details, click here https://www.laoyaoba.com/activity/gsiss/2023/en).
The 7th JiWei Semiconductor Summit (JWSS), will take place in June in Xiamen of southeastern China's Fujian Province. It has been successfully held six times since 2017 with wide industry attention and has developed a reputation as the semiconductor industry's "wind vane."
JWSS attracts thousands of IC companies, investment institutions, officials from national and local governments, and scholars of relevant universities. It has played a significant role in discovering innovative industry forces and promoting collaboration between enterprises, academia, and research fields.
The 3rd Automotive Semiconductor Ecosystem Summit will stage in Shanghai in August. The rapid upgrading of automobile technologies is driving intelligent and networked products, pushing self-supply and self-controllable process of China's auto chips. The summit has emerged as the new influential platform for sharing leading-edge IC technologies with the auto industry.
The 5th China Semiconductor Investment Alliance (CSIA) Annual Meeting & China IC Industry Award Ceremony is scheduled in December in Beijing. After being held for four years, the event has become an influential annual gathering of China's top semiconductor investors and entrepreneurs with high-end closed-door salon discussions.
The event is only available for semiconductor academic leaders, experts, and academicians, fund partners with a capital scale of more than RMB1 billion ($146 million), and chairman/CEOs with company revenue above RMB100 million ($14.6 million).
The 5th "Chip Power Demo" event kicked off last September, and will last until June this year. Starting in 2019, it has become the most influential roadshow platform in the semiconductor industry.
The event aims to build a bridge for China's IC startups and investment institutions. The past four Chip Power events have attracted more than 500 outstanding semiconductor startups, covering the entire industry chain, including IP, EDA, chip design, equipment, and materials, and invited nearly 1,000 investment experts to serve as judges.
The 1st IC Future Engineer Competition will be held in March-June, which will provide a stage for future IC stars. During this period, JW Insights will collect and select research results and papers in the semiconductor industry from more than 100 colleges and universities and research institutes across the country, to help companies tap innovative and interdisciplinary talents, and promote in-depth cooperation between enterprises and target universities.
JW Insights IC Job Fair will be held in August in Shanghai. It will bring together over 20 high-tech parks and industry associations, 500+ IC companies, and 10,000+ science and engineering college students in Shanghai and surrounding cities, connecting companies with more high-quality talents.
The 5th Semiconductor Industry Autumn Campus Career Fair will help IC companies go straight into campuses nationwide to find needed talents. During September-October, JW Insights will organize tours to more than 10 cities including Wuhan, Xi'an, Beijing, Guangzhou, Nanjing, Chengdu, Hefei, Wuxi, and Xiamen, seeking talents for the semiconductor industry.