Gartner: Chinese mainland companies' semiconductor revenue drops 0.5% year-on-year to $45.8 billion in 2022

04-03 16:26
By Gabby Chen
(JW Insights) Apr 3 -- Chinese mainland companies' semiconductor revenue in 2022 achieved $45.8 billion, down 0.5% from the previous year. The global market share also declined to 7.6% from 7.7% in 2021, with over half of the traced Chinese semiconductor companies recording negative growth during the same period, according to a recent report by Gartner.
The report revealed the top 25 Chinese mainland semiconductor vendors by revenue in 2022. The top 5 are: OMNIVISION(豪威科技), Nexperia(安世半导体), Yangtze Memory Technologies(长江存储), UniSoC Technologies(紫光展锐) and GigaDevice Semiconductor(兆易创新). HiSilicon(海思), ranked fifth in 2021, fell to sixth place with an 18% year-on-year decrease in revenue.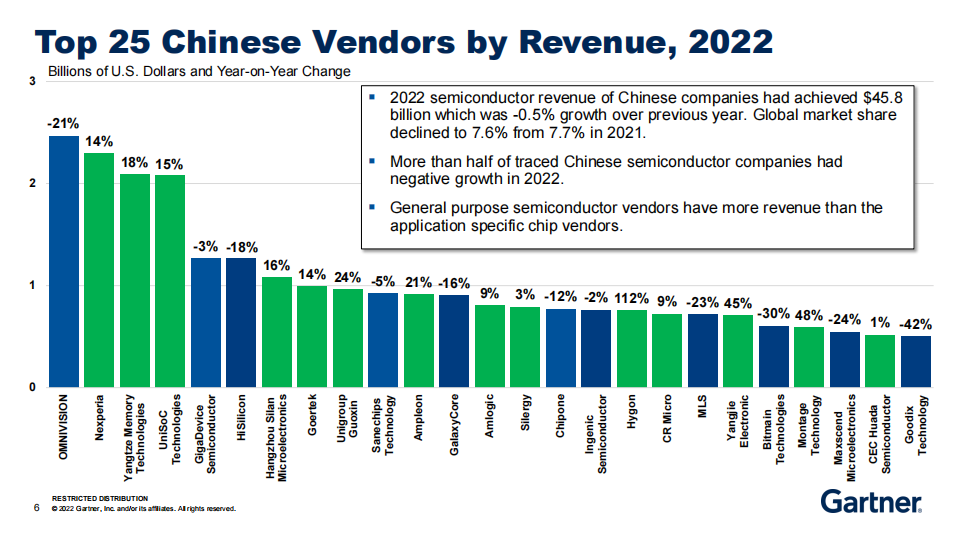 Top 25 Chinese Mainland Vendors by Revenue, 2022
Among the top 25, Hygon(海光) emerged as the company with the highest growth rate, up 112% year-on-year, followed by Montage Technology(澜起科技), with 48% year-on-year revenue growth.
Meanwhile, Goodix Technology(汇顶科技) reportedly suffered the largest decline in revenue, dropping by 42%, followed by Bitmain Technologies (比特大陆), whose revenue decreased by 30% year-on-year.
According to the report, Chinese mainland vendors have gained market share in various industry segments, indicating the growing influence in the semiconductor industry.
The report takes a market share of 10% as the baseline for measuring the influence in the industry. It shows that China had established a notable presence in various segments, including other memory (23%), TDDI (touch/display integration 21%), discrete (20%), LED (20%), image sensors (17%), non-optical sensors (13%), and analog (11%).
In addition, Gartner's report reveals that global semiconductor revenues reached $599.1 billion in 2022, up 0.2% over the previous year's $597.8 billion. The global top 25 companies grew by 1.9% and all 'others' declined by 5.1%. Top 25 vendor account for 77.2% of total revenues.
Among the global top 25 semiconductor companies in terms of revenue in 2022, Samsung, Intel, Qualcomm, SK Hynix, and Micron secured the top five positions, the Gartner report noted.
Meanwhile, 14 out of the global top 25 companies were from the US, including Intel, Qualcomm, Micron, Broadcom, AMD, Texas Instruments, Apple, NVIDIA, Analog Devices, onsemi, Microchip, Western Digital, Marvel, and Skyworks.
Three companies from the Taiwan region - MediaTek, RealTek, and Novatek - made it to the Top 25 list. No manufacturer from Chinese mainland featured on the global top 25 list, according to the Gartner report.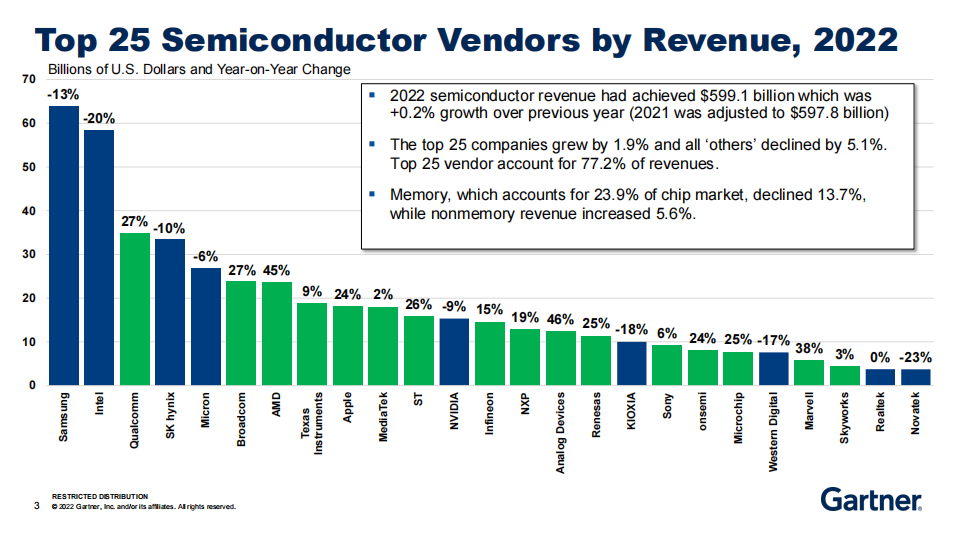 Top 25 Semiconductor Vendors by Revenue, 2022