JW Insights releases Global MCU Industry Market Research Report 2022 with prediction of high growth for automotive MCU

05-24 15:00
By Greg Gao
The global MCU market size reached $201.7 billion in 2022, a year-on-year increase of 1.67%, and the number is expected to hit $208 billion by 2025, according to a recent report released by JW Insights.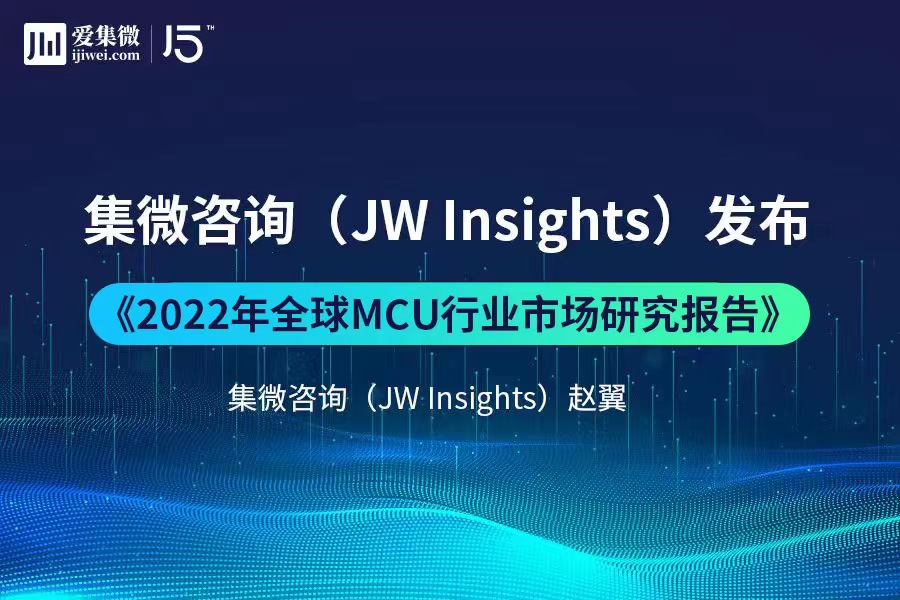 The JW Insights' report analyzes the market trend of MCU applications, reviews the growth of major international manufacturers, and identifies the challenges and opportunities of China's domestic enterprises, helping industry insiders to fully understand downstream market changes and find industry opportunities.
It is based on the development status of MCU products, applications, and technology trajectory, combined with the case analysis of nearly 20 domestic and international companies upstream and downstream of the industrial value chain. The report elaborates on downstream applications such as automobiles from multiple dimensions, such as product design, and inventory turnover, the impact of the changes on the MCU market, as well as the directions and strategies for China's domestic manufacturers.
Among the many applications of MCU, JW Insights pointed out that with the automotive industry's electrification and intelligent shift, as well as industrial automation and digitalization, automotive electronics and industrial control will be the main driving force for the growth of the MCU market in the future.
The automotive MCU market value reached $8.35 billion in 2022. From 2020 to 2025, the CAGR of the global automotive MCU market is expected to hit 10.9%, and the growth rate is much higher than the overall MCU market.
MCU is widely used in intelligent electric vehicles, mainly for smart cockpits, battery management systems, motor control systems, automotive lighting systems, and body control systems. According to the analysis of JW Insights, due to the development trend of automobile intelligence and electrification, in the future, more high-level MCUs will be used in vehicles to support autonomous driving. 
In terms of the impact of electrification, the increase in MCU mainly comes from the battery management system (BMS). With the promotion of wire control technology in the chassis domain, the amount of MCU will increase accordingly. In addition, the improved safety of electric vehicles and the demand for high-level MCUs brought about by the refinement of domain control have also effectively increased the value of MCUs on a single car.
Due to the significant increase in demand for new energy vehicles and insufficient supply, the inventory levels of MCU vendors will decrease, and the delivery cycle will be extended. 
In summary, the electrification and intelligent transit undergoing in the automotive industry and changes in the electronic architecture will significantly promote the MCU market. Although China's domestic enterprises have achieved some breakthroughs, they still need to expand R&D spending to break through technical barriers in high-end products, said the report from JW Insights.