Chinese enterprises provide electronics products and services to on-going World Cup in Qatar

11-25 19:31
Chinese-made products ranging from stadiums to water supply systems and clean energy technologies are shining at the 2022 FIFA World Cup in Qatar, ensuring a green global football extravaganza in the high-temperature desert area, reported Xinhua News on November 23.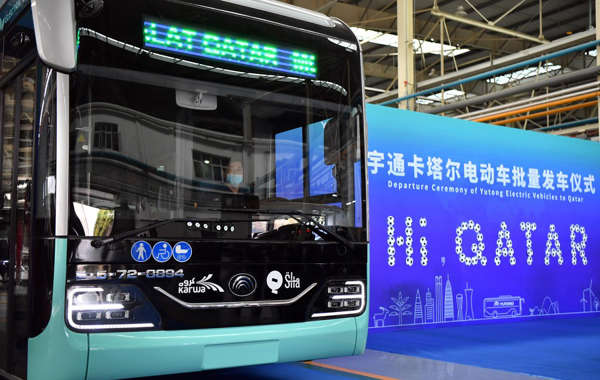 More than 3,000 Chinese-made buses are serving the streets of Qatar during the World Cup, including 888 pure electric vehicles that offer shuttle services for the thousands of officials, journalists and fans of different countries.
This is the first time that a major international sports event has used Chinese eco-friendly buses on a large scale. "That is to say that China's new energy technology has been recognized by the world," said Gan Shaoying, head of Chinese bus maker Yutong's Qatar service team.
Chinese electrical appliance manufacturing giant Midea Group said 2,500 air conditioners have been installed to support the security check centers of competition venues. Machinery giant SANY Group also rode on the construction wave brought by the football bonanza with nearly 100 pieces of heavy equipment.
From national flags to ornaments and pillows emblazoned with images of the World Cup trophy, products made in Yiwu, China's small commodity hub, enjoyed around 70 percent of the market share of the World Cup's peripheral goods, according to the Yiwu Sports Goods Association.
"The World Cup is a perfect stage for Chinese-made products," said Song Xiangqing, a research fellow at Beijing Normal University. "The popularity of these products is a reflection of Chinese manufacturing entering the global high-end product market."
China's manufacturing is speeding up greening and intellectualization, and has made positive contributions to the global industrial chain and the stability of the supply chain, said Chen Jia, an independent international strategy analyst.
The gleaming Lusail Stadium, a centerpiece 80,000-seat venue for the World Cup, host the final and closing ceremony, was jointly constructed by Qatar and the China Railway Construction Corporation.
"The construction of the Lusail Stadium marked the first time that a Chinese company participated as a main contractor to design and build a professional football venue under the highest FIFA standards," said leading Chinese engineer Li Bai. "It was also the first time that a Chinese company carried out the design and construction work for a World Cup stadium."
Chinese enterprises have also participated in the construction of the World Cup's "fan village". Some 6,000 container houses located south of Qatar's capital Doha, for example, were supplied by Chinese firms with facilities including separate bathrooms and air conditioning.
Promoting their brands at the quadrennial event, Chinese enterprises have provided more sponsorship revenue for the host than companies from any other nation, with nearly $1.4 billion in total investment, according to Global Data, a London-based consulting and analytics firm, Xinhua News reported.