Wei Shaojun: The number of Chinese chip design companies increases to 3,451 in 2023 - 208 more than last year

11-10 16:39
By Greg Gao
(JW Insights) Nov 10 -- There are a total of 3,451 integrated circuit design companies in China, an increase of 208 companies compared to the previous year's, according to the annual speech by Wei Shaojun, chairman of the Integrated Circuit Design Branch of the China Semiconductor Industry Association (CSIA) on November 10.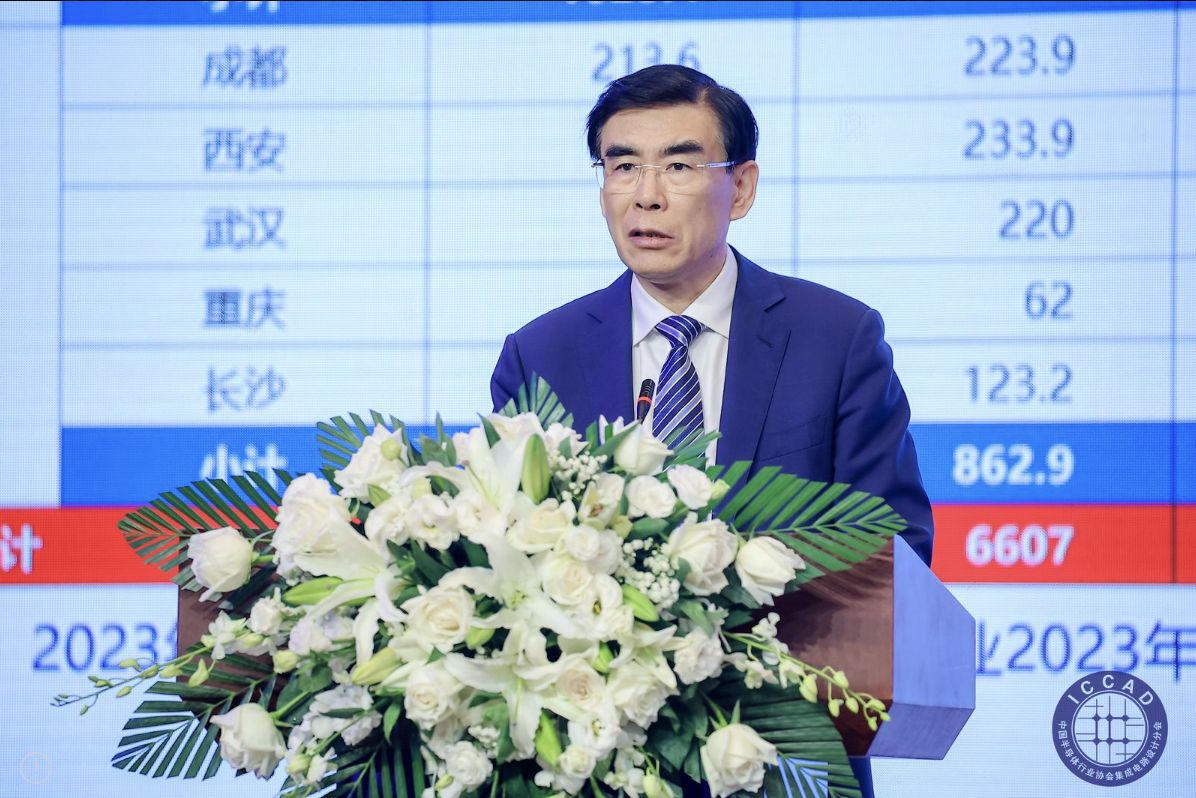 Wei made his widely anticipated annual speech at the 29th China Integrated Circuit Computer-Aided Design(ICCAD) and the Guangzhou Integrated Circuit Industry Innovation Development Summit, which kicked off in Guangzhou on November 10.
Wei's keynote speech is titled "Enhancing Chip Product Competitiveness," providing an in-depth analysis of the opportunities and challenges for IC design industry development in 2023.
He offered the estimated total sales for China's design industry in 2023 at RMB577.4 billion (approximately $80 billion), an 8% increase compared to 2022, slightly increasing the share in the global integrated circuit product market.
Wei pointed to major achievements and challenges that the industry faces:
Firstly, there has been some improvement in industry concentration. The total sales of the top ten design companies reached RMB182.92 billion ($25 billion), accounting for 31.7% of the industry's revenue, a significant improvement compared to 2022.
Secondly, the quality of development for listed companies needs improvement. Among the 108 listed companies, 66 were profitable, while 42 reported losses, indicating that 38.9% of companies incurred losses in the first half of the year. 
Thirdly, there is a lack of capability to grasp market changes. Many firms vigorously expanded production due to capacity constraints in the previous two years, resulting in a severe inventory backlog.
Fourthly, there is blind pursuit of "domestic substitution."
Last but not least, the breakthrough in high-end chips is still pending. China's integrated circuit design industry is moving towards the high-end, but the mainstream is still in the mid-to-low-end segment. Many companies have made significant efforts, but the achievements in high-end chips are still limited.
The companies should prioritize product quality, increase investment in research and development, and continuously enhance design capabilities, especially in the field of cross-disciplinary integrated innovation. Only by doing so can they chart their own path to success, Wei concluded.